Background to the Project 1: Máire
When Máire Uí Mhaicín retired in 2009, she spent quite a portion of her time involved in photography as a hobby. But such was Máire's commitment to everything with which she was involved, she treated this hobby in the most professional of ways. It was, at that point, that Máire started out with Foras na Gaeilge with a concept of creating a discernable archive of digital portraits of living Irish-language writers. It is difficult to think of anyone more suitable to have undertaken this project than Máire: someone who understood of the art of photography while also possessing an innate feeling for the world of the writer, and someone with a vast knowledge of all aspects of Irish-language literature. She undertook the project with great zeal, and the artistic results are so clearly evident on each page of this beautiful work, www.portraidi.ie, and its related output, the book Portráidí na Scríbhneoirí Gaeilge.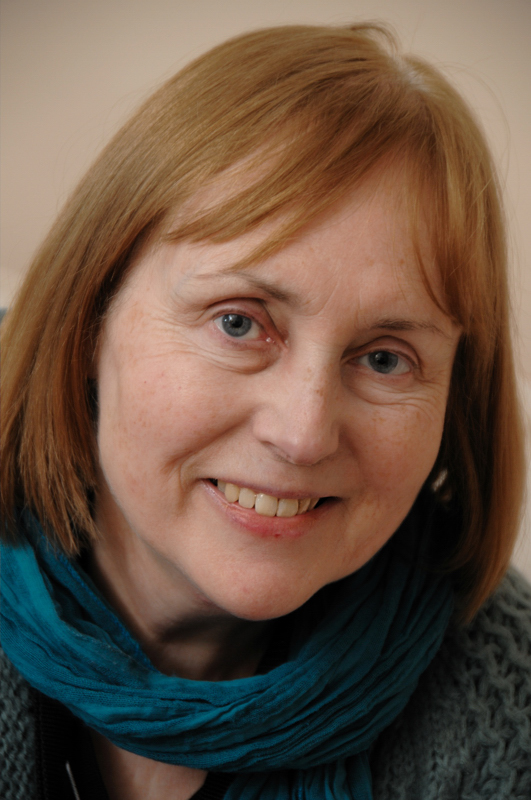 Máire had long held an interest in photography and regularly took photographs of her friends when she went to dinner with them. After one such meal, she was asked to consider whether she might be interested in taking a set of portraits of contemporary authors, poets and scholars for Foras na Gaeilge. It was Deirdre Davitt who thought of this idea, in the first instance, to utilise the ever-developing talent that Máire possessed in order to create a specific project: that of a series of portraits of living Irish-language writers, which would also create a permanent record of the energy, flexibility and creativity of the living language at the start of the second millennium, as Professor Mícheál Mac Craith explains in his introduction to the book Portráidí na Scríbhneoirí Gaeilge.
She accepted this invitation, and with assistance from her friends in Ireland and abroad, she was able to contact people on the internet and by phone in order to contact all the writers involved. She prepared very well in advance in order to persuade all these writers to come on board. She didn't manage to get to every writer on her list due to the appearance, and re-appearance of illness in that time, having completed her final photographic session in Castlebar. Her loyal friend Marisa Livet deserves mention; a well-known photographer from Geneva. Máire would send each digital portrait to her, and Marisa would give advice as to how best to maintain the images as needed.
Máire gave many hours to each of the writers, one after the next, to ensure that the best of the person came accross in their portrait. In amongst the full catalogue of entires, there are 107 writers in this digital collection, displayed on this website, from Stage 1 of the project: poets, novelists, short story writers, playwrights, biographers, critics, researchers and writers for children etc etc. A biographical note is available with each of the entries, together with other information and literary material.